In our
last post
, you learned about our vacation to Washington. Let's pick up where we left off...
Our time in Washington came to a close, but our vacation continued with several days spent in Oregon.
We all traveled separately so that various families could run various errands. We stopped at the Portland temple for a sealing session on our way to Seaside, OR.
We then continued on to Seaside, where we would be staying in cabins at a resort campground:
It was an ideal setup-- each family had some privacy and independence, but we were all really close. We were also just a mile from the beach, and from the Seaside Promenade. The weather was nice but cool while we were there (a welcome break from Utah weather for sure!).
That evening we had an appreciated and delicious dinner thanks to the Petersons (Thomas' uncle, aunt, and cousin) who had arrived a day or two ahead of the rest of us. Then we helped get the families with kids settled into their cabins.
The next day, Saturday, we had a birthday party for Thomas' grandmother at the assisted living complex that she and Grandpa moved into recently. She is a lovely and very loved lady.
After church on Sunday, Thomas and I walked to the beach and along it.
Monday was a great day. I did my 30-minute run and was feeling awesome. Then we went swimming with all the kids at the campground pool. After getting cleaned up, we went to Astoria for family portraits. Then, since we were there, we stopped at the Astoria column and climbed all its stairs with all the kids.
After all that, we headed back for lunch and a smaller family birthday party for Grandma at the campground, complete with a gourmet chocolate cake, and an ice cream cake:
Oh, and lunch? Each family had a turn cooking a meal for the whole gang, and we ate together between 2 of the cabins on some picnic tables:
On Tuesday, Thomas and I went back down to the Promenade for a little while. We looked in a few shops, but mostly just enjoyed the day together. We did splurge on some fresh cotton candy from a special vending machine, however:
We skipped all the deep-fried stuff, though:
On Wednesday, we headed out after a yummy breakfast with Grandpa, Grandma, and Uncle Eric, Aunt Susanne, and Lovisa.
We attempted to navigate to a beach north of Seaside, but we couldn't quite figure out the roads so we gave up.
We stopped at a dam for a potty break and spent a few minutes watching the fish ladder:
We spent the night in Baker City and drove the rest of the way home on Thursday. We took a couple of minor detours to see LDS temples along the route that we hadn't seen before...
Twin Falls, Idaho:
And Brigham City, Utah: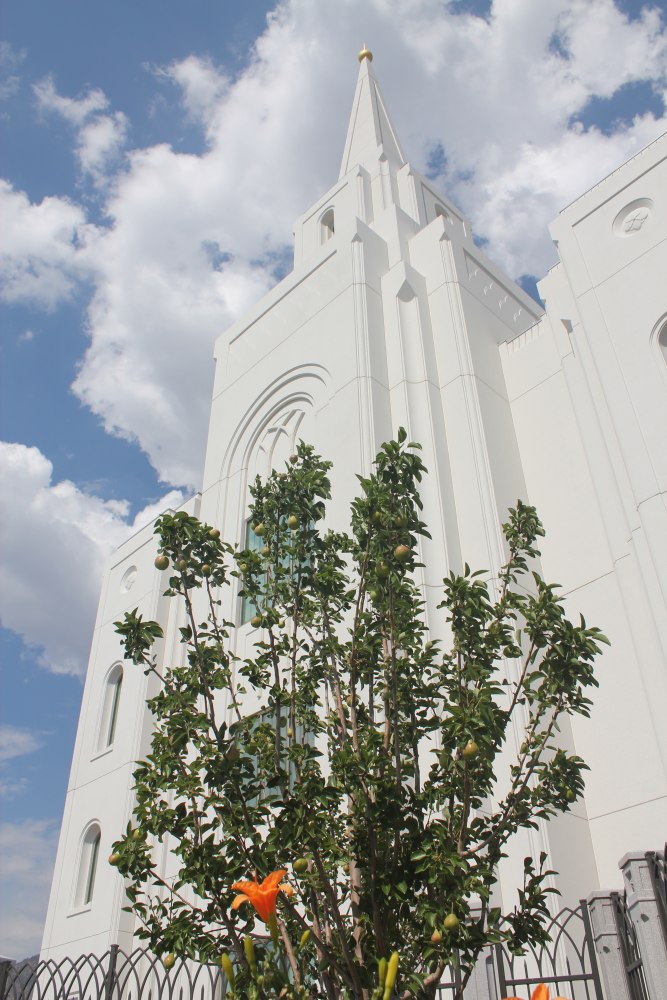 There are fruit trees on the grounds of the Brigham City temple!
While at the Brigham City temple, we also checked out the Brigham City / Box Elder Tabernacle, just across the street:
Thomas even tried his hand at the organ:
We had a really great time and this post really doesn't do it justice. We enjoyed spending time with each other, with the Bradshaw family, and in a cooler climate. It's so fun to get away from the everyday routine!
oxox